2021 Update! Per the comment below, LeadPlayer is back. Now LeadPlayer popups run independently without relying on YouTube or Vimeo API, means no mess with your core content. You can use default embed code that YouTube & Vimeo provide with full peace of mind… Whew!
LeadPlayer was one of the best YouTube plugins for showing optins during a video. Unfortunately, LeadPlayer is no longer for sale. Here's the reason it was removed and some solid LeadPlayer alternatives to replace it.
Having LeadPlayer disappear came as a surprise. I was ready to purchase it and couldn't find a way to Checkout. It took some digging to find out why LeadPlayer was no longer being sold or offered to the public. The cryptic message on their website didn't help much, either.
An Important Note from the LeadPages Team…

Hey There!

Thanks for your interest in LeadPlayer! We appreciate you stopping by.

As much as we'd love to have you as a customer, we're not selling new copies of LeadPlayer right now.

It's nothing personal. You just caught us at a transition time here at LeadPlayer.

Right now, we're closing LeadPlayer to new customers, so we can make way for even more amazing developments coming in 2014.

As we write this, our development team is working behind closed doors on innovations that could change the lead generation industry.

To create these innovations, we have decided to shift our focus away from LeadPlayer for now — to concentrate on these more important developments.

If you're already a LeadPlayer customer, don't worry! We will continue to support you 100%!

That means you can still use LeadPlayer to grow your list, and you can continue to contact our amazing support team if you have any questions.

Thanks for understanding.

The LeadPages Team
Eventually, I stumbled upon a thread on a forum that helped me understand what was going on. It turns out that LeadPlayer wasn't working with YouTube anymore. Here is LeadPlayer's technical response to the problem:
"LeadPlayer is a JavaScript wrapper for YouTube's Player. In other words, it builds and depends completely on YouTube's API and then adds our special functionality there. The way it works it is simply waiting for the signal from YouTube to start playing. So when it doesn't receive a signal there really isn't much we can do about it.

When you are logged in to Google Plus you are also logged in to YouTube which seems to affect LeadPlayer's communication with YouTube. So this is really the YouTube API not taking into account that you are logged into Google Plus.

We understand that this is problematic for you, but unfortunately this is not something our developers can offer a solution for in the near future."
So to put it bluntly, LeadPlayer stopped working and won't work in the future due to API changes at Google+ and YouTube. As of January 5th, 2014, it was reported that Leadplayer was no longer being sold. Any attempt to purchase was being redirected to .
So where does that leave the average internet marketer that wishes to place lead capture optin forms inside their videos? You essentially have two LeadPlayer alternatives right now.
LeadPlayer Alternative #1: Wistia
Wistia is a powerful commercial video host like YouTube. They essentially replace YouTube and, as such, are not reliant on the YouTube API in any way. Their platform allows the capture of emails inside the actual video player. They call it a "Turnstile" and it's a powerhouse solution being used by top marketers around the globe. The only drawback is the price. They have a free account that provides 3 free videos. After that, you're looking at monthly fees to use the service.

LeadPlayer Alternative #2: Leadeo
If you're looking for something cheaper with one-time pricing, take a look at Leadeo on CodeCanyon. This WordPress plugin allows you to show optin pages anywhere within a video. You can even show an optional "Skip" button to prevent negative feedback. The plugin uses videos hosted on YouTube or Vimeo without any problems. This is a great low-cost solution by a team of skilled developers that create solid software. It also offers additional features worth looking at. It's currently being sold for $24 for a One Site License.
If you're looking for a product with a developer that provide support, this is a good option. Unfortunately, it only seems to sync with MailChimp at this time.
LeadPlayer Alternative #3: VooPlayer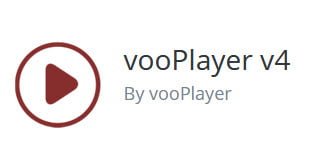 According to their WordPress Plugin Page, vooPlayer WordPress plugin is an add-on to the vooPlayer SaaS platform which allows you to fully customize, analyze and add superpowers to any video, hosted anywhere including on YouTube, Vimeo, Dropbox, AmazonS3 or even host it on your own server or elsewhere. Unfortunately, the reviews aren't very good and many claim it doesn't work. So proceed with caution.