This Ultimate Ebook Creator Review was published back in March 2, 2013. Since then, the author has corrected all the issues in this review. It is now working correctly and is recommended for Kindle Ebook formatting.
I purchased Ultimate Ebook Creator based on some recommendations in the Warrior Forum Kindle Book Club. Unfortunately, the software was very buggy. Here is my Ultimate Ebook Creator Review.
Ultimate Ebook Creator Review – Formatting
In my testing for this review, Ultimate Ebook Creator did not properly format two Kindle .mobi books. The margins inside both books were inconsistent and messy. The first book was copy/pasted from Word, so I thought the issue was pasting from Word to Ultimate Ebook Creator. But that wasn't the case. My wife typed up the second book entirely inside UEC and it still messed up the formatting as shown below.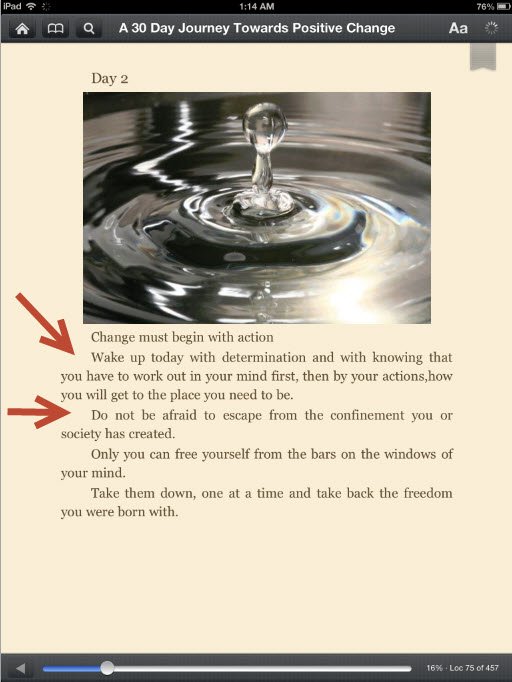 Ultimate Ebook Creator Review – Bullets
Simply put, bullets frustrated me immensely. They appear correctly on the Kindle Previewer but on ALL actual devices, they appear as boxed question marks or boxes. The author recommended I paste images as a workaround. I'm not going to go through 100+ pages copying/pasting images for bullets. The software has a bullet formatting button on the editor. It should work correctly. I should note that the author of Ultimate Ebook Creator released an update after I mentioned the bullet problem but it remains unfixed.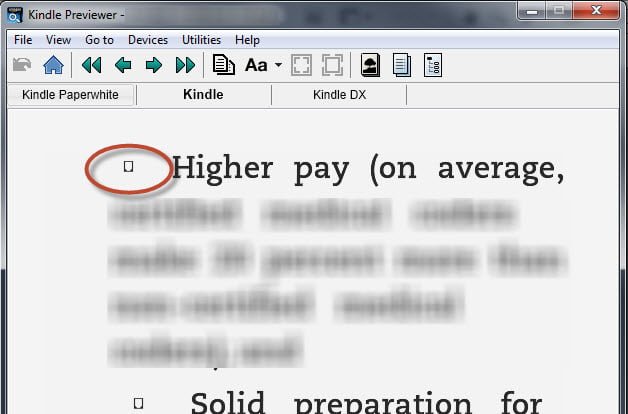 Also, bullet formatting in Ultimate Ebook Creator is hit or miss. Sometimes it appears indented, sometimes it doesn't.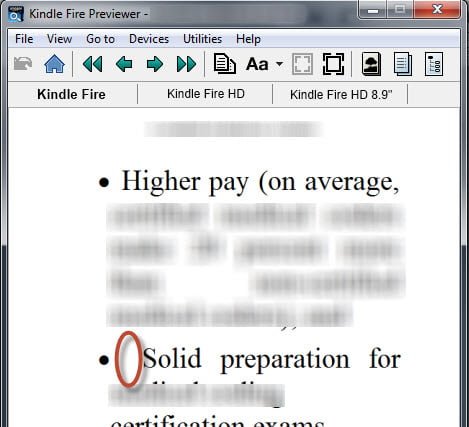 Ultimate Ebook Creator Review – Pasting from Microsoft Word
When pasting from Word, Ultimate Ebook Creator pastes all the various styles, fonts and inconsistencies that exist in the original Word document. I ended up with a Frankenstein book with Arial here, Verdana there, etc. The Ultimate Ebook Creator software was unable to overwrite the styles with the built-in editor, either. The author recommends copying/pasting from Word to Notepad to Ultimate Ebook Creator. That would technically work, but any prior formatting work that was performed in Word is completely lost. This leads to a lot of manual work reformatting the text from scratch. I feel Ultimate Ebook Creator text import abilities need to be improved dramatically.
Ultimate Ebook Creator Review Licensing
The software comes with two license installations. Unfortunately, the software checks your license at every time you start the Ultimate Ebook Creator software. This suggests the software is reliant on an online licensing server of some kind.
What happens if the server goes offline or the product becomes abandoned? Do you lose access to all those ebooks you typed up in their proprietary .uec files? I don't know the answer to that. I understand software must be licensed, but I don't believe a perpetual start-up license check is necessary.
Ultimate Ebook Creator Review Conclusion
I got a refund. I'm now using Scrivener to write my books and create my Mobi files. I'm very frustrated with the formatting inconsistencies in Ultimate Ebook Creator and so are my customers.